In the beginning
There are points in everyone's lives that revolve around self-reflection: Am I happy with what I'm doing? Is my life heading in the direction that I want it to? Did I really need that cheesecake? Some of these "reflective stages," if you will, are more serious than others. Robert (Bob) Lamborn, the hero of our story, was in one of these serious stages when he made a life altering decision. He had no idea of the legacy he was about to create.
Recently divorced, Bob Lamborn, a Private Investigator in the San Francisco Bay Area working with clearances in both the CIA and FBI, made the conscious decision that his life needed more structure and complexity. What better industry to add structure and complexity (he was already well-balanced and getting better with age) to Bob's life than the wine industry! Bob convinced his son, Michael, to purchase with him two separate but adjacent plots of land on Howell Mountain, an eastern appellation of the Napa Valley. Having no idea what they were getting themselves into, father and son team, Bob and Mike, purchased respectively 25 and 15 acre plots of land at 2,200 feet in elevation in 1971. Of the 40 purchased acres, a total of 14 were actually plantable.
The two men, along with other friends and family members, put their heart and soul into clearing these ruggedly beautiful plots of land into what are now majestic mountaintop vineyards. After thorough research, both vineyards were planted to Zinfandel. Bob and Mike knew they needed a name for their wine. Of all the potential ideas, one stuck out the most to them: Lamborn Family Vineyards. It was a perfect name, simple and true to the business. Despite the fact that the majority of their friends told them the name made them sound like a couple of guys making wine in a garage (because they were), they went ahead with it anyway. Thus, the very first "Family Vineyard" label in the country was created. Many wineries have since followed suit. The first vintage, 100 cases, came in 1982 and was crafted by family friend and neighbor Randy Dunn.1983 marked the first commercial release of Lamborn wine at around 350 cases. Production was kept very small and all excess fruit was sold while the Lamborns established their market. 1984 brought about 500 cases and production levels slowly increased each vintage until it reached a peak of 2,700 cases in 1992. Not a lot has changed with Lamborn Family Vineyards in the last 40+ years. We continue to focus on our Number One goal: producing modest quantities of estate grown Zinfandels and Cabernets of a superior quality at an approachable price.
Cinderella story? Not quite. On one fateful Sunday in October, 1991, as he was returning home to Oakland from two weeks of harvest, crush, and fermentation at the vineyard, Bob was met with the reality that most people only see in nightmares. What seemed to be all of Oakland, Berkeley, and the surrounding area was completely engulfed in flames.
Rising out of the ashes
Sadly, the infamous Oakland Firestorm of 1991 had destroyed not only Bob's entire house, but also every worldly possession and memento he had collected throughout the years. Distraught, fatigued, and covered in Howell Mountain's red dirt, Bob and his two Weimaraner dogs stayed with his son Mike and daughter-in-law, Terry, until he could get back on his own two feet.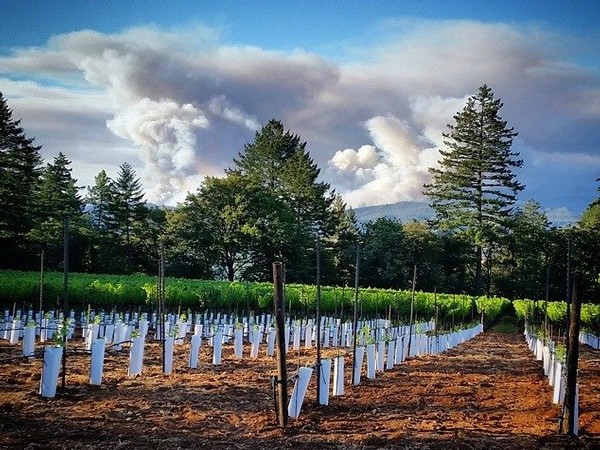 The reality of the Oakland Firestorm was not forgotten in time, however, but immortalized on the back label of the Lamborn's 1991 Zinfandel vintage. Entitled the "Phoenix Vintage," the back label pays tribute to the trials and tribulations of this stage in Bob's life, and his "rising out of the ashes." This marks the first Lamborn vintage to be recognized with a title and is a tradition that continues this very day. Each vintage is given a name with the story behind the name on the back label, summarizing an event or circumstance that encompassed that particular growing season. These stories are meant to be both informative and entertaining, and are something that Lamborn Zinfandel fans look forward to vintage after vintage.
1996 brought forth two changes in Lamborn Family Vineyards. First, Bob sold his vineyard and entered semi-retirement, however he still acted as a consultant. It was next to impossible to keep him out of the vineyard during harvest. The second change, and a very welcome one, was the addition of the extremely accomplished winemaker Heidi Barrett joining our team. Making a formidable reputation for herself as winemaker for such "cult" wineries as Screaming Eagle and Dalle Valle, Heidi's well-deserved and established reputation precedes her. Her winemaking techniques are consistent with the Lamborn's winegrowing practices: focus on quality and have a lot of fun in the process. The Lamborns now average about 1,600 cases a year of estate grown Howell Mountain Zinfandel, Cabernet Sauvignon, and Rosé.
As it was in the beginning, Lamborn Family Vineyards remains a true "family" business. Mike and Terry continue to pass along responsibilities to their sons Matt and Brian, who represent the third generation. Matt, with his masters in landscape architecture and natural affinity for "things that grow," finds the responsibility for the vineyard operations right up his alley. Brian, who has led marketing and sales for over 20 years, now also enjoys the "excitement" that the administrative side of running a winery provides. It has always been true that "young blood" brings in new and innovative ideas, and this certainly is optimistic for the future of Lamborn Family Vineyards. Mike and Terry will play an active role in the annual activities of the business. Well into the fourth generation now, it's not uncommon to see the younger Lamborns working in the vineyard - and away from their phones!
It's always a family affair at Lamborn Family Vineyards.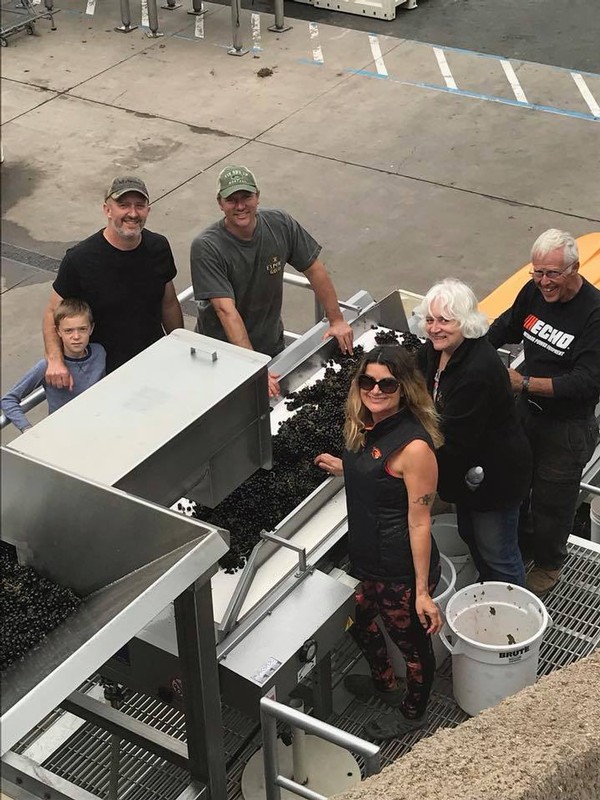 Stay connected
Sign Up For Our Newsletter
Keep up to date on the latest wine releases, pre-releases, library offerings, events, and much more.